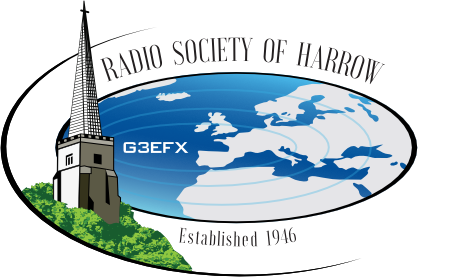 Training
Foundation, Intermediate and Full Licence Exams
In the UK there are three levels of Amateur Radio licence – Foundation, Intermediate and Full.  The Radio Society of Harrow runs Foundation and Intermediate training courses.
The Radio Society of Harrow is an accredited examination centre with the RSGB.  Examinations at all levels can be taken online or on paper.  We strongly recommend taking exams online – students get their results immediately on completing the exam.
People wishing to register for either a course or an exam must first be registered on the club portal. (Click to register)
If you have already registered on the portal, log in and use the 'Enrol me on a course' option.
When completing the application, on page 3, select 'Training Enrolment' to distinguish your registration from a regular membership application.
Courses offered
Radio Society of Harrow provides training for the Foundation and Intermediate License levels only.
Course schedule:
2020 Foundation Jan 18, Jan 19, Jan 25 and Jan 26
March 07. 8. 14. 15.
2020 Intermediate            TBA
2020 Advanced                  None planned
Fees:
These include the exam fees and must be paid in full to secure a place on a course
A Foundation course including exam costs £56
An Intermediate course including costs £75
A Full Exam (no course offered; this is exam only) costs £37.50.  .
The Radio Society of Harrow also offers an exam service – we can put on exam sessions at all three levels for students who may have studied elsewhere or need to re-sit an exam.  For society members this is free; for non-members we make a £5 charge in addition to the exam fee.
Course Books:
Students are advised to obtain a copy of the relevant RSGB study book, entitled "Foundation Licence Manual for Radio Amateurs", "Intermediate Licence Manual for Radio Amateurs" or "Full Licence Manual for Radio Amateurs".
Books are available from the RSGB Shop.
Our courses are held at the club shack at the Lincolnsfields Centre, Bushey Hall Drive, Bushey, Herts, WD23 2E
Please email training@g3efx.org.uk for more details or to book a place.
See our Foundation and Intermediate pages for more details of the courses.
---