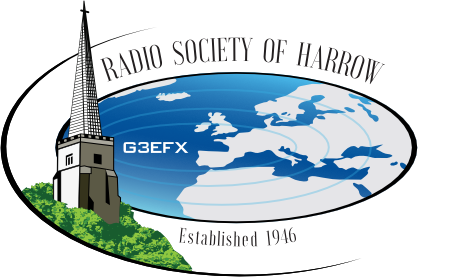 Chapter 12 - Into a New Century (2001-2005)
The Radio Society of Harrow entered the new century in a fairly healthy state. We had a respectable number of members, boosted by the efforts of Don, G0ACK, who continued recruiting through his training sessions. We also had a good programme of events and a core of enthusiasts supporting Club nets and our appearances at external shows. There were some clouds on the horizon, however, as the Harrow Arts Council that ran the Arts Centre where we met went into voluntary liquidation in early 2001.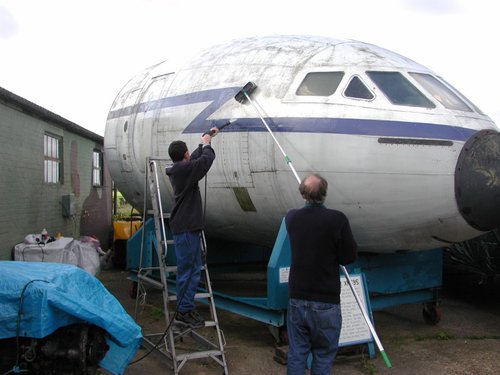 Our activities were quite diverse and as well as the usual Friday night sessions, we were active with our station at the De Havilland Aircraft Heritage Centre in London Colney. The station here (GB2DHH) was originally operated by Derek Purchese (of the Verulam Club) but activity ceased when he became a silent key. The Radio Society of Harrow reactivated the site using a shack in one of the workshops with the Club's call, GX3EFX. We soon obtained permission to take over the original callsign. In July 2001, the shack was moved into the nosecone of an ex RAF Mark 2 Comet after it had been given a good clean and a re-fit by enthusiastic Club members. The station was operated about 1 weekend each month from March to November.








Amongst other activities in 2001 were a Club Dinner at the Vine Taverna Greek restaurant in South Ruislip; operation for "Museums on the Air"; a talk on astronomy and a transmitting day on Harrow Weald Common (Old Redding). As well as the usual talks and Junk Sales, we also continued with our "themed" evenings: French, Hungarian and Irish with appropriate food and drink.
In June 2001, we hosted 3 visitors from Club F6KRK based near Paris. We took our visitors to visit Martin Lynch's shop, to Syon Park, to GB2DHH, St Albans and London sightseeing including a trip on the London Eye.
We also had a sad event in April 2001 with the death of long-time Club member Norman Joly, G3FNJ.
In March 2002, we held an Open Day at the Arts Centre with the theme "Three Centuries of Radio" to coincide with National Science Week. As visitors entered the room, the first item seen was a replica 1895 Marconi transmitter complete with spark coil and metal plate antenna. Two of our members, Jeff and Graeme made the model, which attracted much attention from public and press.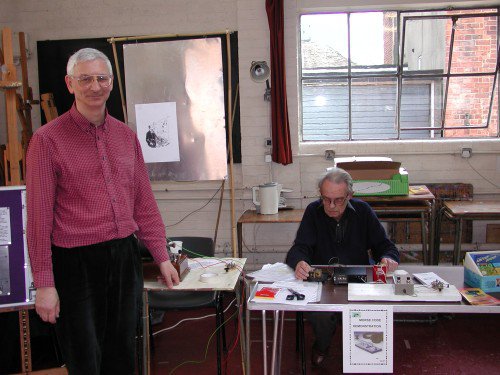 On an adjacent table sat Derek, G3LSY, with a variety of Morse keys and an invitation to sample Morse code. This too was popular with visitors trying their hand using prepared cards. Nearby, Dick showed us something of his interest in short wave listening by providing an attractive selection of QSL cards and a variety of short wave receivers. Also his latest passion, sophisticated crystal sets, was represented. Ray put on a good display of working SSTV. The Drake transceiver presented by King Hussein of Jordan, JY1, was put on show with suitable captions and evocative photograph.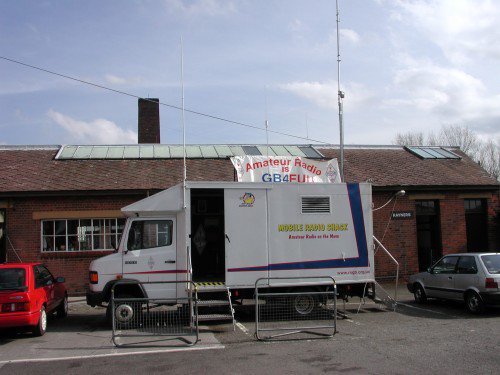 Outside, stood the newly equipped demonstration vehicle from the RSGB, GB4FUN. On board were HF, VHF and UHF stations. The vertical antenna provided seemed not to perform too well but a changeover to the Club's G5RV brought about a dramatic improvement.
Also in March 2002, we visited the Wycombe Astronomical Society. We had spectacular views of Jupiter, Saturn and various constellations before the sky started to cloud over.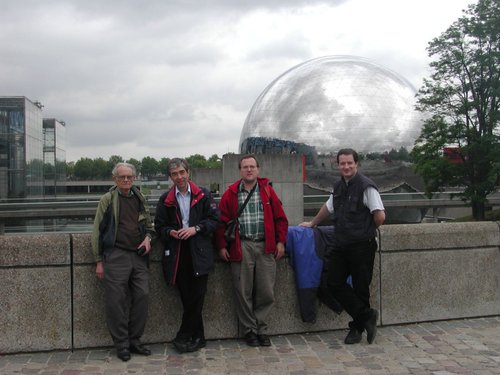 We continued our visits to our French friends at F6KRK with a trip to France in May 2002. This time, we were taken on a mystery trip to the Radio DX Center (an amateur radio shop) followed by a visit to the house of Jean Monnet, the chief architect of European Unity. Back at F6KRK, we were presented with nice wine and three 2m handhelds to share with members of the RSH. Chris, G4AUF, then gave a talk on "Development of Mobile Communications" to the F6KRK members in French. Still the day wasn't over as that evening, we had a very nice buffet at the radio club. The following day, we were taken to the Cité des Sciences in the north of Paris. This is a huge science park with interesting exhibits and interactive experiments covering science, engineering and medical topics.









In November 2002 we had a club stand at the London Communication and Computer Show which was held in Ware, Herts.
Things were not all good, however, as in December 2002, we held a SGM (Special General Meeting) to sanction urgent change to our subscription to meet a financial crisis.
Throughout 2003, we continued to be active. In June, we received members from F6KRK and during the Summer, we continued the refurbishment of the Comet nose cone at the De Havilland museum. The courses continued with more exam successes and this brought more members into the Club.
Sadly, in 2003 we lost one of our Honorary Members, Ron Ray G2TA. Ron was one of the founder members of the Club and it is rumoured that he was responsible for calling the Club Newsletter "QZZ" as "the last word in Amateur Radio".
Membership continued to grow throughout 2004 thanks to Don, G0ACK, bringing in ever more members through the courses he ran. At the end of May, we paid another visit to F6KRK. This time, 9 people from the Club went to Paris. There, we were joined by 3 members from a German radio club. Amongst the many enjoyable activities was a visit to Chartres. Sadly, another long standing member died in 2004, Ivan James G5IJ.
On a happier note, Stuart, M1SMH, won the RSGB G5RP award for demonstrating the best "DX and DX'ing Progress in the past year". Also, work continued on GB2DHH Comet station to fit it out and get a new side entrance operational and to develop the interior.
From early 2005, as a sign of the times, QZZ was sent out electronically to all members with an email address. This resulted in a considerable saving on postage costs, not to say the time taken to fill the envelopes. Also, from early 2005, we officially stopped meeting weekly and changed to 2nd and 4th Fridays in the month due to the unavailability of the Arts Centre bar. This had been closed on Fridays unless there was a show or other event on. We tried meeting in local pubs but this was not successful as few people turned up,
Other events in 2005 included a Club Dinner at Cafe Uno, Pinner; a mid-Summer Junk Sale; a photo nostalgia evening and another visit from our French friends. This time, we took them to visit Runnymede, Salisbury and Stonehenge.
Another sad event in early 2005 was the death of Michael Lewis, G1GUV who was being treated for acute leukaemia in Northwick Park Hospital and Ian Rundle, G4UER. We also lost another long standing member in September, Derek, G3LSY.
---
On to Chapter 13 - available soon
---