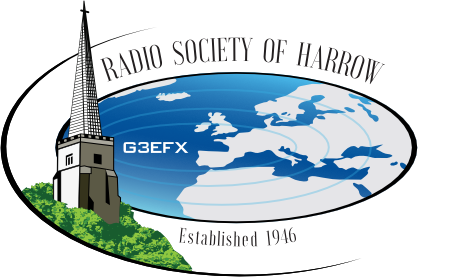 Chapter 11 - A Golden Era (1996-2000)
The year 1996 marked the Golden Anniversary of the Radio Society of Harrow. Yes, we were 50 years old and still young looking and sprightly! We had formed a "think tank" to decide how to mark the occasion. The main event planned was a summer celebration.
Also at the start of 1996, we launched our web site giving details of the Club and its activities. It was set up and maintained by Chris, G4AUF. We also launched a new Club logo; Brian, G0NTB, was responsible for this and produced a really professional-looking result.
Our Club call "GX3EFX" was used on the air throughout the year by many of our members. We wanted to ensure our Club was well and truly recognised.
In 1996, the Club made two appearances at the Harrow Heritage Centre. The first was at the May Day Bank Holiday Fair where we put on a demonstration station to advertise the Club and Amateur Radio to the general public. The second appearance was in October where we put on an exhibition for a month in October/ November. Here, we had three display cases containing interesting items and notice boards on which we had put a lot of photos of Club events and also a lot of QSL cards. There were also old magazines and equipment on display.
Also in 1996, we appeared at the Middlesex Show and had a stall at the Dunstable Downs Car Boot sale where we made a lot of money for Club funds.
The main event of the year, however, was the Summer Party to celebrate our 50th birthday. This was held at the Tithe Barn at the Heritage Centre in Harrow in July. As well as many Club members, past and present, there were several special guests. These included the then Mayor of Harrow (Cllr Alan Hamlin) and representatives of the RSGB: Executive Vice-President Ian Kyle GI8AYZ (who the day after was elected as RSGB President for 1997) and zonal members Peter Essery, GW3KFE and Tom Menzies GM1GEQ. Amongst the old faces who showed up were: Bob Pickles G3VCA, Arnold Mynett G3HBW, Brian Hummerstone G3HBR and Mark Wheeler G6DOD.. There was a buffet and a splendid cake bearing the Club's logo. President Alf Waring, G7DFF, and his wife cut the cake. The catering was expertly done by the Arts Centre staff.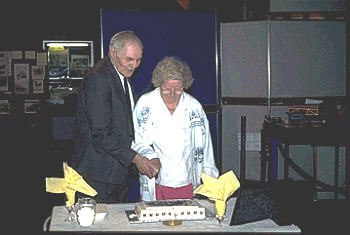 There were a few speeches. Ron Ray, G2TA, took us on a trip down memory lane from the beginnings of the Club to the present time. The Mayor also gave a short speech revealing his involvement with radar in the War. There was a raffle for which some of the prizes had been generously donated by Martin Lynch & Son. Commemorative certificates, expertly and professionally produced by Brian, G0NTB, were handed out to all members. A special one was done for our most prominent Honorary Member, King Hussein of Jordan.
A very good evening was had by all but the celebrations were not over for the year. Although we had our party in July, we believe that the first meeting of the Radio Society of Harrow took place in November 1946. We decided to have another celebration in November, therefore. This was also very enjoyable with some 30 guests attending including some more old faces. There was a special cake organised and provided by David Talaber, G0CAG and we finished the evening by drinking champagne from plastic cups!
The following year, in 1997, we had our first official exchange visit to French club, F6KRK. The visit took place over the weekend of 14th-15th June when six Club members went to Paris. The six of us met our French friends from the Radio Club de Saint Quentin-en-Yvelines situated to the West of Paris. There, we had a wonderful time: excellent food and drink, visits to interesting places and we met many of their club members. We wondered how we could repay such good hospitality.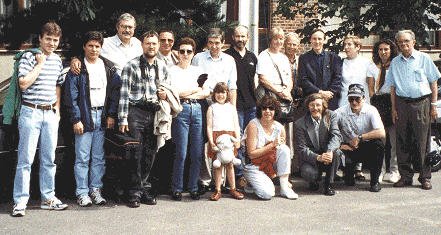 Our chance came later in the year when our French friends came for a visit in November. We welcomed them to the Club on the Friday with a traditional fish and chip supper. Over the weekend, we went on a walking tour of Harrow Hill, went to the Picketts Lock rally and had a very nice meal at Don's (G0ACK) on the Saturday evening. This excellent fare was prepared by his daughter Marion and wife Ronnie. On the Sunday, we went to central London to visit the sights before our visitors left to catch their train.
There were some sad events in 1997. We lost Alf Waring, G7DFF, our then President. Tragically, he passed away just before the AGM at which he was due to deliver the President's Report. He wrote a poem just before he died:
On Friday 21st March my year in office ends
It's been an honour to be President amongst so many friends
Especially as it's 50 years since this Radio Society formed
With plenty of happy sunshine as well as weathering storms
Our Harrow branch is thriving, I look forward to Friday nights
Chatting with my cronies till when it's first light
Our sales of bring and buy, wine tasting and the like
Radio Tuesday mornings, no time to have a mike
Amateurs one and all, but professionals through and through
I'm so happy to be a member amongst every one of you
My ramblings they must finish, for my beer is getting flat
Best wishes to next President, when he puts on the hat
In this time we also said goodbye to Leo Jelen, G0IGQ; Tom Vallard, G3DKB and Francis Tennant, G3RFL.
Over the Christmas period in 1997, our shack at the Arts Centre was broken into. Fortunately, the only damage was to the door and nothing was taken. Perhaps they thought it was all junk! Thanks go to Tom, G0NSY, and Brian, G0NTB who attended and not only repaired the door but made it a lot more secure.
We were busy in 1998. We put on another exhibition station at the Manor (Harrow Museum & Heritage Centre) on May Day. We also had a stall at the Dunstable Downs car boot sale. It was a hot day and we made lots of money for Club funds.
In the summer of '98 we paid another visit to France. Four Club members travelled once more to Saint Quentin-en-Yvelines. On the Friday night, we ate delicious pizzas, on Saturday we visited the new radio club premises where we contacted Don, G0ACK, back in Ruislip and Norman, G3FNJ, in Harrow. There was a special event - it was the official opening and the Mayor and several dignitaries attended. On the Sunday, we visited Versailles where we strolled in the grounds in hot sunshine. We ate a nice meal in a restaurant at mid-day before heading home.
Friday nights at the Club were quite active. One of most popular talks at the Club in 1998 was not on the subject of radio but on complementary medicine given by Katie Eachus.
In 1999, the long-term editor of QZZ - Chris Friel, G4AUF - finally hung up his word-processing equipment and passed the editorship to Linda, G7RJL. Chris had edited QZZ for nearly 20 years and felt it unfair not to give someone else a go! Other significant events in 1999 included another visit from our French friends; this time, we visited the amateur radio station on HMS Belfast. Also, we started our Novice courses - Don, G0ACK, took on his first batch of pupils who subsequently passed the exam with flying colours. Further batches of students followed. 1999 also saw the start of our activities at the De Havilland Museum (Mosquito Museum) at London Colney. We reactivated the callsign, GB2DHH, and had numerous sessions there.
By contrast, a very sad event occurred in 1999 when we lost our most distinguished Honorary Member, King Hussein of Jordan, JY1.
Towards the end of the century, we started having special evenings to celebrate various national days e.g. Bastille Day, St Patrick's Day and German Reunification. For these evenings, we put on a station to try to contact nationals of the country in question and we also have the national food and drink. Sometimes we have quizzes and games based on the nation we were celebrating. These evenings are greatly enjoyed by all.
At around this time we also started helping out at the Arts Centre. A few of us were specially trained as stewards and that allowed us to take our turn at being officials at the various shows, concerts and plays put on at the Arts Centre. This was usually enjoyable (depending on the show, concert or play!) and also brought in some income for the Club.
As the new century dawned (if you believe that this started in 2000!), we maintained our activities. In summer 2000, we had a "transmission day" up at Old Redding. We transmitted on VHF and HF and made quite a few contacts. Other activities included a very interesting visit to the Surrey University Space Centre. There was yet another sad event in 2000 when we lost Bill, G3SGT.
Towards end of 2000, rumours began to circulate of severe financial difficulties of Harrow Arts Council. Is this the end? We will pick up the story in the next chapter.
---
---