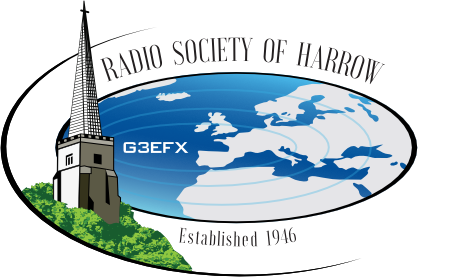 Dedication to JY1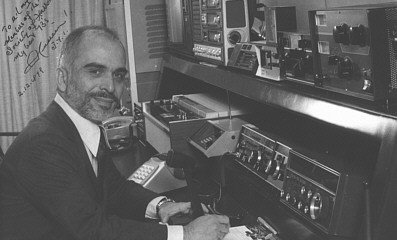 This page is dedicated to the memory of our most distinguished Club member, King Hussein, JY1. King Hussein was an Honorary Member of our Club for many years until his death in February 1999. We have many fond memories of his association with us. You can read all about these below.
A Special Club Member
The photograph below was sent by King Hussein to our Radio Club. The inscription reads:
"To all my friends, members of the Radio Society of Harrow. My best 73s Hussein, JY1"
His Majesty sent us the photograph following his visit to us in October 1979. More about this later. So how did King Hussein become a member of our Club? The story starts below.
The First Meeting
Of course it is well known that King Hussein was a keen Radio Amateur; also he was no stranger to our part of the world because he was educated at Harrow School in the 1950s. Knowing this, one of our Club members, Norman Joly, G3FNJ, took the opportunity to enroll a new member.
Many years ago, Norman had a contact on the air with His Majesty who was at the time operating his transmitter using his UK callsign from a London Clinic where he was undergoing treatment. Norman knew about the King's association with Harrow and so Norman explained that he was a member of the Harrow Radio Society and the King was most interested.
As a result of this the Committee decided to ask His Majesty to accept Honorary membership of the Club. He graciously accepted and three members of the Committee were invited to an audience with him at the Dorchester Hotel on the 15th January 1971, so that they could present him with a suitable hand prepared certificate to mark the occasion. This scroll had been prepared at short notice by the Club Secretary's sister Miss Ann Rees a student at the Harrow Art School.
The three members invited were Norman Joly G3FNJ, Chris Rees G3TUX and Russell Medcraft G3JVM. They spent an interesting half-hour with the King talking about Amateur Radio. They were also accompanied by Harrow Observer reporter Jennie Wilkinson and chief photographer Doug Avent and an interesting article with photographs appeared in the "Observer" on the 19th January 1971.
The Second Meeting
Our second meeting with His Majesty took place in October 1979. The meeting was arranged with great secrecy and with careful planning. We couldn't meet in our Club premises of the time because the area was not secure enough. Instead, the meeting was arranged to take place at the Civic Centre in Harrow. The then Mayor, Cllr. Derek Rouse, kindly arranged a reception in the Mayor's Parlour.
The photograph on the right shows some of our members, the Mayor and Mayoress with King Hussein. This photograph was taken in October 1979 in the Civic Centre, Harrow.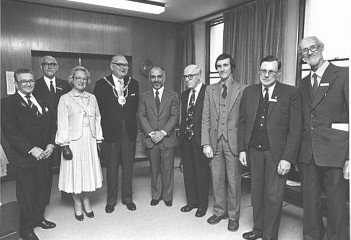 Shown from left to right are: Bill Corsham, G2UV; Norman Joly, G3FNJ; the Lady Mayoress (Mrs Sheila Rouse); His Worship the Mayor (Cllr. Derek Rouse); His Majesty King Hussein, JY1; Geoff Hodges, G3KRT; Chris, G4AUF; Don, G3MLS and Maynard De Borde, G8VYH.
We spent about an hour with the King. At the start of the visit there were speeches of welcome and His Majesty responded to say how pleased he was to be with us. The formalities were soon over and everyone had a chance to meet the King and chat to him informally.
Several interesting photographs of the visit are now in the Club's possession and in members' shacks. One of these was also published in the Region 19 Club News section of the January 1980 issue of "Radio Communication", together with a short write-up.
Following the visit, His Majesty sent everyone who attended a personally signed QSL card. The one sent to the author of this page – Chris, G4AUF – is shown here.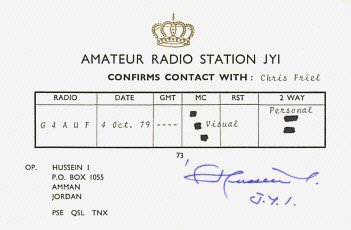 Additionally, a few weeks after, he sent the Club some new radio equipment. This came as a total surprise and we were all very grateful to him. He really was a very generous man.
Continued Association with the Club
For many years after, His Majesty sent personally signed Christmas cards to us. One of these, signed by His Majesty and his wife Queen Noor is shown here.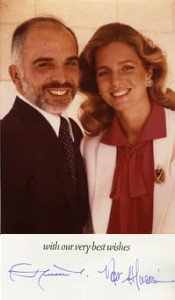 We were very honoured to have King Hussein as one of our Club members. We will never forget his generousity and kindness. Many of us will retain some very special memories of our meeting with him back in 1979. It is sad that he is no longer with us. In fact we were planning to present him with a certificate and had already arranged to meet the Jordanian Ambassador. It was only a few days before the meeting that King Hussein died and so we never had the chance to give him the certificate.
He will, however, live in our memories and this page is dedicated to him from all of us in the Radio Society of Harrow.
To visit the official King Hussein website that gives details of his life and times click here.
---