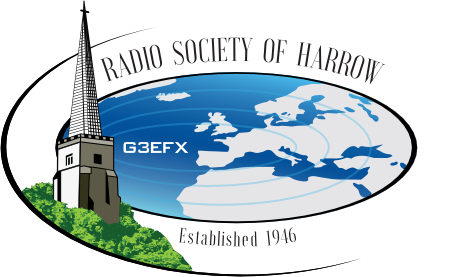 Tom G0NSY SK
Club News Mon 5 Jul 15:30
by Linda Casey
We are very sad to announce that Tom O'Reilly, G0NSY, passed away on Saturday 12 June 2021. As well as having been a significant member of the Radio Society of Harrow for many years, Tom was the RSGB Regional Representative for region 9, covering London and Thames Valley.. Our thoughts are with his family, friends and colleagues at this difficult time.
Tom joined the Metropolitan Police in 1973, and was stationed at many notable locations throughout his career, providing him with a fund of memorable anecdotes. He and Helen married in 1978, and had three sons. In 1995 he received a Long Service Award and Good Conduct medal. In 1997 when his lower left leg was amputated, he medically retired from the Police force.
In retirement, Tom dedicated much of his time to many societies and communities, being an active member of the International Police Association, a member of the Royal British Legion in Harrow, and a member for many years of the Bisley Gun Club, where he enjoyed taking part in many target shooting competitions. Tom was a member of Comhaltas Ceoltóirí Éireann, an organization dedicated to the promotion of the music, song, dance and the language of Ireland, and was heavily involved with Irish Music Sessions.
Tom joined the Radio Society of Harrow in 1987, serving on the Committee from1988–2003 and 2008-2016, being Chairman from 1990-2003, and President in 2014/15. He was also active in local Raynet, helping to set up numerous events through his knowledge of radio.
Some memories from Tom's friend Steve 2E0NSY:
I first met Tom at the Radio Society of Harrow where he was helping with one of the courses. We got talking and found we had a common interest, the Met Police. Tom became a close friend and got me through one of the most difficult times in my life, that being separating from my partner and being away from my children. Without Tom dragging me out all the time I would not have been in a good place. I will always be grateful to Tom for his kindness.
Tom was a member of the Royal British Legion in Harrow and served as its Chairman for a short period of time. Pre-Covid he used to visit the club every week and was well respected by its members. I would meet Tom at the Royal British Legion and we would solve all the world's problems over a beer. Tom always had a police story to tell and I often told him to write a book of his time with the Met.
Tom was a member of the International Police Association and I would normally travel with him to the meetings followed by a beer. Tom was a Freemason and a member of the Greystoke Lodge No 6146 in Harrow. Through Tom I also became a member and I travelled with him to the meetings and to Bushey Social Club (again involving beer).
Many times I would help pick Tom off the floor if he got his balance wrong. One memory I have was attending a function at the Lord Mayors Building with Tom and his wife Helen. The red wine was flowing and as we eventually made our way home Tom tripped and ended up on the floor. He said to me it's alright I just wanted a better view of the London Shard, though I suspect the red wine had a lot to do it.
Tom was always hard as nails and never complained even when it's was clear he was struggling with his leg. Tom was always more concerned about everyone and rarely though about himself. Tom was a true gentleman and a true friend.
Steve O'Riordan 2E0NSY
Back to News index
---